Changpeng Zhao or CZ, CEO of Binance exchange is often known as a leader with more transparent thinking in cryptocurrency space. Once again, the man appears in the limelight while commenting on Vitalik Buterin's Ethereum and its development community.
CZ: ETH Can Do Much More Than BNB
Nevertheless, Ethereum is the world's second largest cryptocurrency wherein BNB is presently stood on the 7th largest spot on the graph of Coinmarketcap (in terms of market capitalization). Ethereum has been in the industry since 2015 wherein BNB emerged as Binance's native token in the year 2017.
However, the token was initially built on ETH network and it has recently in migrating process on Binance chain, a newly launched Binance's own blockchain network. After the long-awaited launch of Binance chain, a Twitter user posted a tweet that says 'BNB to have a devastating effect on ETH' – he further added that there's no benefit of choosing ETH over Binance Chian.
CZ while responding to the above tweet decline the whole context and admired ETH over BNB in terms of features. While commenting, CZ says;
But ETH Development Community Lacks Focus
In a continuous conversation with Crypto Twitterati, CZ reveals ETH lacks on focus. A Twitter user 'DLT_Oracle' indicates ETH has an advantage over BNB in terms of huge development community and diversity among these community. He replied to CZ's tweet and further adds to his post,
Binance's Dex will have to compete with multiple Dex's on ETH is unlikely ever to have as robust a network as ETH due to a lower diversity of
As a response, CZ points – unlike the BNB development community which is focused on only one thing despite being smaller, ETH development community does many different things. Binance CEO quietly challenges a quick race between the ETH development community and BNB development community. In his response, he says;
The eth dev community is unmatched. But they do many different things. Our #BNB dev community is much smaller but focused on one thing. Let's see how it plays out.
Moreover to answer another query that asks 'when delisting ETH' CZ bets absolutely not and added. In a controversial BSV delisting debate, CZ says 'ETH will be around for a long long time'.
Moreover, CZ and Vitalik met in a Deconomy Conference in Seoul held for two days on the 4th and 5th of April at the Jang Chung Arena. CZ shared his picture which was captured with Vitalik Buterin and two others on Twitter. Here it goes;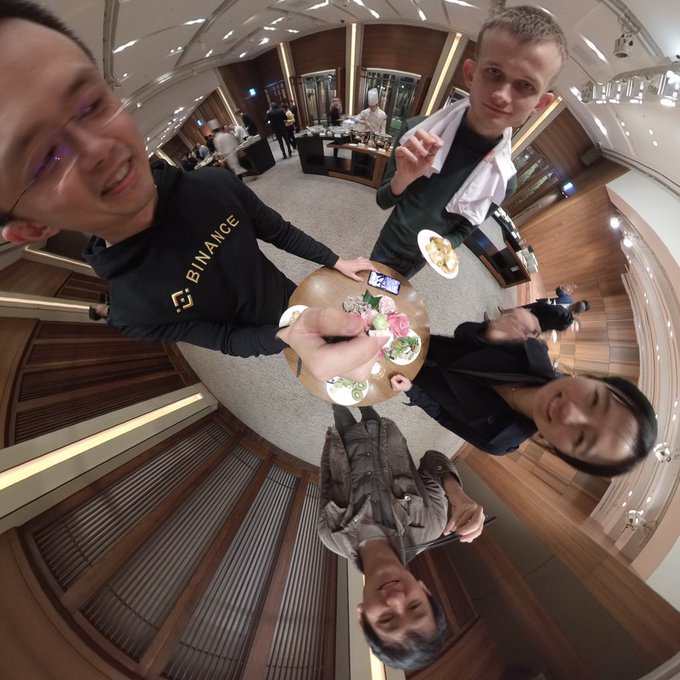 The presented content may include the personal opinion of the author and is subject to market condition. Do your market research before investing in cryptocurrencies. The author or the publication does not hold any responsibility for your personal financial loss.
Subscribe to our newsletter for free