Is crypto really replace the gold.? As Grayscale's #DropGold advert is on the rise, UK's largest organization for the gold industry, World Gold Council (WGC) hit a new blog against #DropGold wherein its manager explained why 'cryptocurrencies are no replacement for gold'.
#DropGold promo Ad received a number of positive responses from across the largest crypto community – some notable influencers such as Anthony Pompliano and others appreciated the idea behind advert and creative video by Grayscale team. Such a huge admiration seems a direct hit to the World Gold Council (WGC).
The whole idea of the campaign is to let investors believe in an idea that they should bid bye to gold and buy bitcoins or invest in digital currencies like bitcoin.
Today we unveiled our #DropGold TV commercial. We think it's a #MustWatch

sound ON! pic.twitter.com/SEGAmMItsE

— Grayscale (@GrayscaleInvest) May 1, 2019
Adam Perlaky, in his blog, posted on May 02, 2019, entitled 'Cryptocurrencies are no replacement for gold', states that;
Although cryptocurrencies and blockchain technology look promising as a whole, they clearly do not represent a substitute for gold either in theory or in practice.
Mentioning about what puts gold in top spot than crypto, Mr. Perlaky explains it in the form of 'regulation, demand, supply, and investment'. In his elaborating blog, he adds;
Gold is less volatile with having a more liquid market. As regulations around the crypto market are uncertain, he says that gold market trades occur in an established regulatory framework which makes it the best investment portfolio investors can consider over cryptocurrencies.
By disgracing Crypto over gold, he states
Extreme daily and intraday volatility disrupts its (Crypto) use as a medium of exchange and discourages strategic investments Gold's volatility is slightly above the stock market as a whole, in line with most fiat currencies over time
Mr.Perlaky further mentioned the realized volatility of bitcoin, gold, S&P 500 and US Dollar in a graphical manner as follows;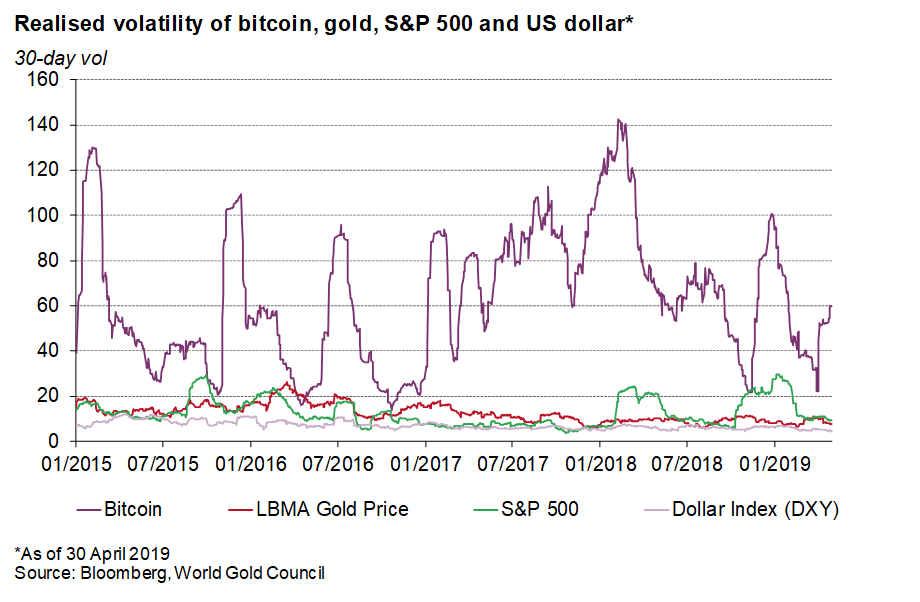 However, he didn't completely mark crypto in a negative way but he added the failure of crypto in 2018 as a hedge fund as a shred of evidence. Adding his views that remarks Gold over crypto, he concluded stating that we continue to acknowledge the innovation taking place; but
It is clear that cryptourreices are not a replacement for gold and gold should remain a component in all investmen portfolios.
You can read more about WGC's report on Gold v/s crypto here
This article later got into attention of Garyscale's Barry Silbert who quoted WGC's tweet on and states;
What do you think is Gold better than Crypto.? or Crypto is better than Gold.? Let us know in the comment below
The presented content may include the personal opinion of the author and is subject to market condition. Do your market research before investing in cryptocurrencies. The author or the publication does not hold any responsibility for your personal financial loss.