Facebook's crypto has become the center of attention since it announced Libra whitepaper. The latest report reveals that U.S House of Representatives Financial Services Committee, Maxine Waters seeks Facebook to halt development of Libra crypto network until a hearing can be held.
Stop Libra Coin Right Now – US Representative Addressing Facebook's Libra
Facebook's Libra is obviously the major concern for regulators – as it carries billions of audience along. In fact, every step into the crypto industry by platforms like Facebook is one of the key topic regulatory authorities dig deeper in. The new move by Congresswoman Maxine Waters comes after a letter released by Republican counterpart, Representative Patrick McHenry. The letter reads that;
"We know there are many open questions as to the scope and scale of the project and how it will conform to our global financial regulatory framework," adding: "It is incumbent upon us as policymakers to understand Project Libra. We need to go beyond the rumors and speculations and provide a forum to assess this project and its potential unprecedented impact on the global financial system."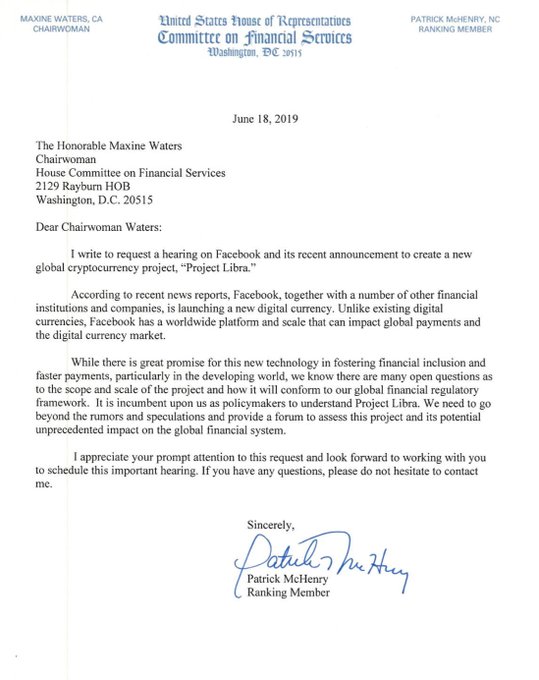 In a discussion with CNBC on Thursday, Rep.Maxine Waters (D-Calif) arguably urged that;
"It's very important for them to stop right now what they're doing so that we can get a handle on this," Waters said. "We've got to protect our consumers. We just can't allow them to go to Switzerland with all of its associates and begin to compete with the dollar."
Facebook to Face Highest Standards of Regulations
Just to remind, this halt move is something that Bank of England's Mark Carney said in his earlier discussion. As Coingape reported, Mark Carney explicitly added 'Facebook has to face the highest standards of regulations'. Similarly, a report from India also discussed Facebook's Libra in India might be aborted citing RBI's policy concern.
Moreover, Indonesia's central bank showed its concern by adding Facebook to have review its Libra plan again'.
Besides everything, Facebook sticks to its statement of crypto for unbanked. In addition, US Congresswoman stated in a statement that 'no strong policies or clear regulations persist in crypto industry that ensures safety for investors, consumers, and economy'. She notes;
"with the announcement that it plans to create a cryptocurrency, Facebook is continuing its unchecked expansion and extending its reach into the lives of its users."
As a response to this, the Facebook spokesperson said that;
"We look forward to responding to lawmakers' questions as this process moves forward,"
Also, according to her, Facebook is violating fair housing laws – she said that by adding the Department of Housing and Urban Development lawsuit. She kept on adding we'll investigate with what's going on with this new cryptocurrency.
"And while we're doing that they have moved on to develop this cryptocurrency. We're now going to move and we're going to move aggressively and very quickly to deal with what is going on with this new cryptocurrency."
While regulatory criticism is on high buzz, other reports highlight that Facebook is in talks with a big US bank to let it handle the governing body for Libra development. Nevertheless, the report adds a unanimous person and accordingly the person deny adding the name of banks which Facebook is currently in talks.
The presented content may include the personal opinion of the author and is subject to market condition. Do your market research before investing in cryptocurrencies. The author or the publication does not hold any responsibility for your personal financial loss.