South Korean tech giant Samsung is marching ahead in the crypto space. The crypto-centric Galaxy S10 launched this year, and the giant has fulfilled its promise of providing a blockchain wallet to support Bitcoin and other cryptocurrencies.
Bitcoin Already Included in Samsung Galaxy S10
According to a report from South Korean national daily newspaper sedaily, the Samsung Galaxy S10 blockchain wallet has added support for Bitcoin, Ethereum and other cryptocurrencies. It's essential to remind that the Samsung Galaxy S10 series has an inbuilt Samsung Blockchain Keystore development kit, dubbed as Samsung Blockchain Keystore (SDK) on its developers' website. At the time of the launch on August 22, the phones did not have the blockchain wallet but this screenshot taken on August 30 confirms that the support for Bitcoin and Ethereum has been added.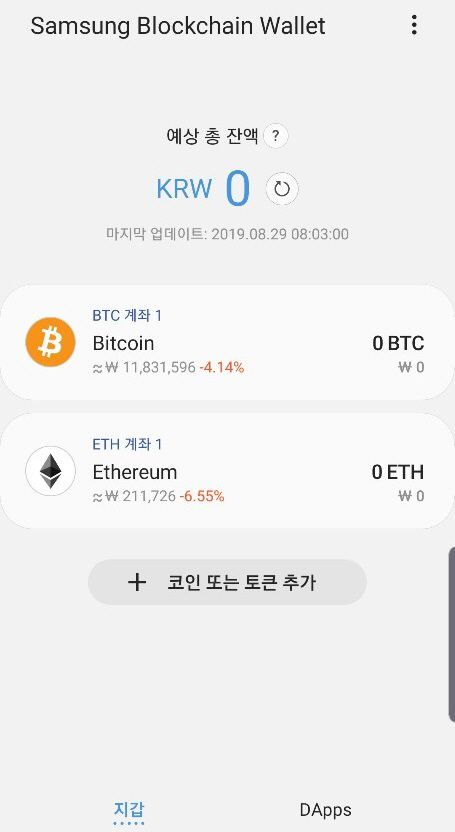 The Google-translated report reads that;
Samsung Blockchain Wallet will automatically create two types of accounts: Ethereum (ETH), which has been supported from the beginning, and a newly added BTC. If you want to open an additional cryptocurrency wallet, you can create it by adding coins or tokens.
With this development, Samsung has joined the league of major mainstream companies that are developing crypto-oriented products. On this, Samsung said, "Although other companies have not done so yet, we have already made a blockchain wallet and released it".
As mentioned in the same report, Galaxy S10 supports 33 cryptocurrencies including Bitcoin (BTC), Ethereum (ETH), Basic Attention Token (BAT), Maker (MKR) and Pundi X's NPXS. Besides, it features DApp tokens by Galaxy store. The latest DApp that was included in Galaxy S10 was DENT. Furthermore, an official of the Samsung Galaxy Store remarks;
"Dapps that are affiliated with the company will be added to the Samsung blockchain wallet list, and the tokens of the Dapp will also be added to the Samsung blockchain wallet's support token list."
A Reddit user shared a snapshot of Galaxy S10 wallet that supports Binance Coin, USD Coin, TrueUSD.

As for now, Samsung's so-called SDK is restricted to a few regions. Only citizens of Canada, Germany, South Korea, Spain, Switzerland, the United States of America and the UK can access the Samsung Galaxy S10 Blockchain wallet.
Image Source – Finder.com
The presented content may include the personal opinion of the author and is subject to market condition. Do your market research before investing in cryptocurrencies. The author or the publication does not hold any responsibility for your personal financial loss.
Subscribe to our newsletter
for free