The meteoric rise in price and awareness of cryptocurrency has awakened the mainstream interest among folks worldwide. Investing in bitcoin has been mounting but with consequences. Consequently, an American retail giant, Target was allegedly being used by Bitcoin scammers. According to reports, the official twitter account of Target was hacked, looks more like promoting bitcoin giveaways. The account has almost two million followers and the scammers were pushing 5000 BTC to its users in exchange of 0.2 to 4 BTC as a fee.
It looks more like this;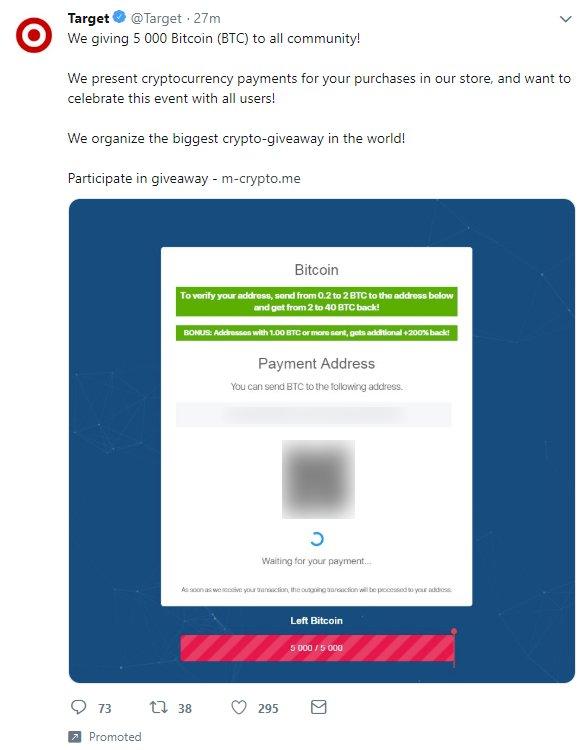 However, the tweet is not available but got caught the eyes of few. Also, the tweet wasn't just posted but also promoted wherein a Twitter user responds "Holy sh*t someone hacked Target" and then it follows other engaging on the same. Fortunately, the tweet was deleted by the firm than reacting on any matter.
It looks like Target is the first major retail being used by scammers to push Bitcoin scams. Nevertheless, the Tweet reads as follows;
"We giving 5000 BC to all community!
We present cryptocurrency payments for your purchases in our store and want to celebrate this event with all users.
We organize the biggest crypto-giveaway in the world!
Participate in the giveaway – m-crypto.me"
It is to note that m-crypto.me web address is not reachable.
Tabassum is a full-time content writer at Coingape. Her passion lies in writing and delivering apt information to users. Currently, she does not hold any form of cryptocurrencies. Follow her on Twitter at @Tabassumnaiz and reach out to her at Tabassum[at]coingape.com